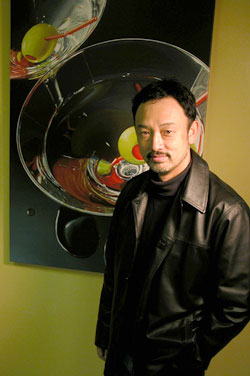 Nobu Haihara is a multi-talented artist who continues to expand his horizons by challenging his own creative instincts. He is an accomplished landscape painter, portrait artist, super-realist and graphic artist. But his energy and ideas keep him constantly active and evolving as a painter.

Well-known and successful at an early age, Nobu now has his work in the personal collections of President George W. Bush, Laker owner Jerry Buss and Hall-of-famers Kareem Abdul Jabbar, Jerry West, Jamaal Wilkes and the late Chick Hearn. He has been commissioned by Mao Daichi, Japanfs leading musical star; and by NBC and the FOX Network which have used his artwork in set-designs for "Ally McBeal"and "3rd Rock From The Sun". Nobu has been honored with Exhibitions in New York, Sausalito, Beverly Hills, Hiroshima, Yamanashi and Fukuoka, Japan.

Growing up in Kokura, Japan Nobu credits his parents as early influences on his artistic future. His Mother handmade many of the things they used and decorated with in the family home. Her boundless creativity was not lost on the young Nobu, who often had to be scolded for drawing on any and all available surfaces. He absorbed Japanese and Western culture like a sponge, especially books on Monet, Da Vinci and Michelangelo. He visited museums and trained in traditional Japanese arts, but it was in his father's grocery store that Nobu found his calling.

Brightly colored and graphically enticing images bombarded him as he helped open packages of dry goods from America and arrange them on shelves to be sold. Their pure marketing effects were powerful and mesmerizing to the young Nobu, who began to see the advertisements as art. He studied them, drew them and incorporated their ideas into his own emerging style.
In school he eagerly studied both classical and modern art, and set out to master them both. Art & the History of Art were very important growing up in post-war Japan.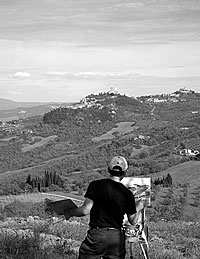 Both European and traditional Japanese arts were taught in all the schools he attended. But Nobu's interests kept gravitating towards Pop and he saw early on that this was a practical way to make a living while continuing to explore his other passions.

After graduating from University, with a Bachelor of Science Degree, Nobu immigrated to the United States in 1986. He arrived in Venice, California, a well-known artist's community full of diverse people and ideas. He began by selling his paintings on the Venice Boardwalk, which led to numerous commissions for original portraits, landscapes and abstract paintings. Recognized for his creativity, Nobu soon moved up to art shows and galleries.

By the early 1990's he had learned the practical art of silk-screening and was successfully reproducing and selling his artwork as serigraphs and mono-prints. Nobu learned to silk-screen his work onto paper, glass, aluminum, and canvas.
He developed a style reminiscent of the historical Japanese Ukiyoe wood-block prints that combine images with poetry and verse; and he produced and sold silk-screen prints of clocks, telephones, wine bottles and Martini's - - with their history or recipes hand-written across them in a decorative narrative style.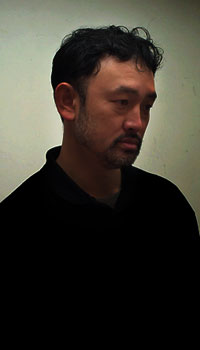 By 1991 he was in charge of the state-of-the-art Atelier at Marco Fine Arts, working on prints for Robert Indiana, Donald Sultan, John Asaro, John Nieto, Aldo Luongo and other accomplished artists the company was publishing. Alongside his professional achievements as printmaker, Nobu continued his private work, developing a distinct and personalized style of his own. Painting in both acrylic and oil paints as well as developing his skills as a sculptor and photographer - Nobu applied his new knowledge and techniques to producing his own cutting-edge modernist images that explore the boundaries between commercial and fine arts.

These images are still a part of his oeuvre, but Nobu today is stretching the envelope again with his super-realist images of giant Martini's and shakers, scotch bottles and glasses brimming with color and reflectivity. His crystal cut-glass images dazzle us with their realism and depth of field. His compositions are balanced and yet fluid.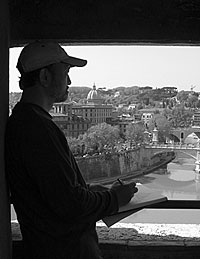 Dynamic perspectives are used to capture our attention and imagination. The colors somehow manage to remind us of both of Nobu's early influences: Renaissance and Pop Art. Dark brooding backgrounds, enlivened by and engulfed in bold modern color spring from the canvas, entertaining us, fascinating us, while they urge us to join in the moment of celebration.

Icons of modernity are stirred, not shaken, by the artist into rich fantasies and awesome reality.

Available exclusively from Marco Fine Arts, Nobu Haihara's new series of paintings and giclees will be represented only at selected Fine Art Galleries in the United States and in Japan.

Other images by Nobu can be found on display at the Rio Suites or Las Vegas Hilton in Las Vegas, the Hotel Nikko and the Radisson Miyako, Japan; the Gladstone's, Morisawa and Tenkai restaurants in Universal City, California and the Miyabi Club, California.